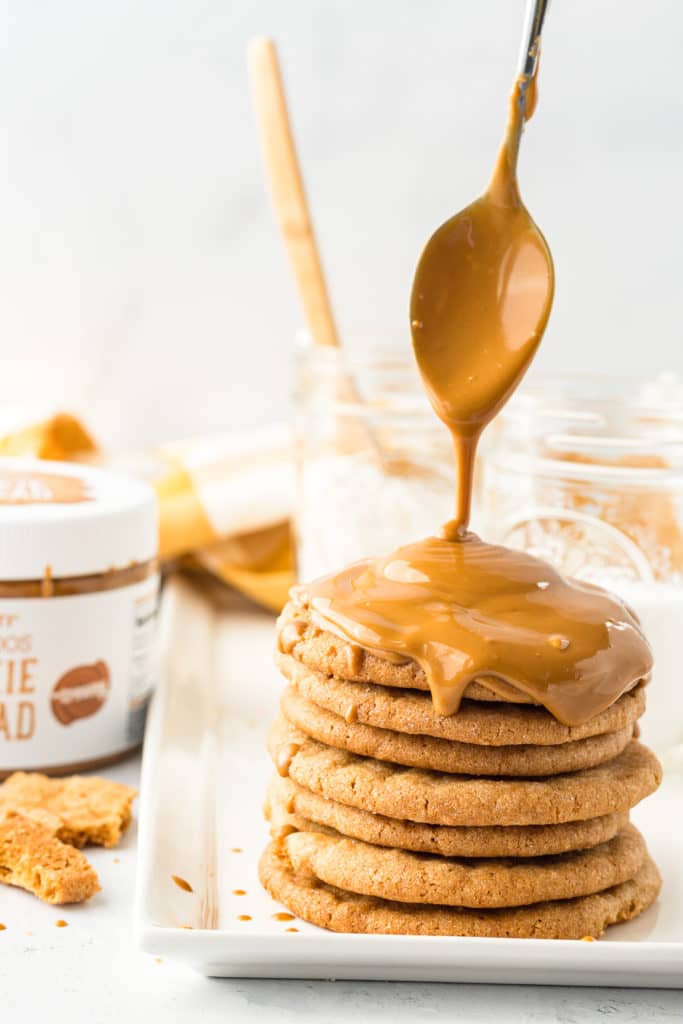 Why in the world would anyone add cookie spread to a cookie recipe? Do we need a reason? The reason is cookie spread is fantastic, and we have the right to add cookie spread to anything and everything.
Two of my favorite cookies are ginger snaps and chewy peanut butter cookies, and this recipe marries both cookies together. Even though I highly recommend chilling the cookie dough for at least 30 minutes, it only takes 6-8 minutes for the cookies to bake to perfection. With this cookie recipe, you get a light gingery, chewy cookie that would pair perfectly with a glass of almond milk or ice cream.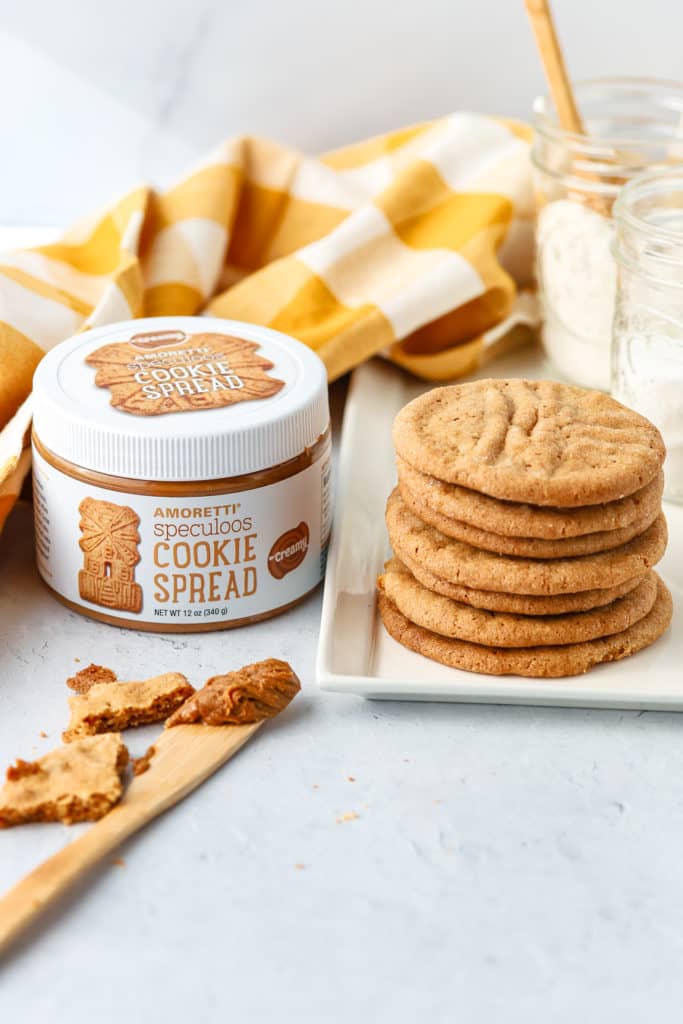 Get Started on your Holiday Baking
With social distancing, I feel like we have less access to all the sweet treats of the holidays, which may be a good or bad thing. But I plan on making up for those missed treats by doing plenty of baking at home and starting with these Cookie Butter Cookies. I teamed up with Amoretti to get my baking started! Bake goods and a pandemic, can my waistline take anymore?
Why You Need to Visit Amoretti for your Baking Needs
Ok. Let say that Amoretti has such a wide range of high-quality ingredients to help you make the perfect baked good. You can also find flavored syrups, and I grab a few coffee syrups since I am making coffee at home most days. After being amazed by all the goodies on Amoretti's website, I decided to kick off my baking with the Speculoos Creamy Cookie Spread and even found a recipe for cookie butter coffee. You read that right.
Tips for this Cookie Recipe
Most Definitely chill dough for at least 30 minutes.
Use a cookie scoop to keep cookies the same size.
Space cookies at least 2 inches apart because the cookies will spread.
Keep a close eye on the cookies because they only need to back for 6-8 minutes
Let cookies cool for 5 minutes, dig in, and even dip them in more cookie melted cookie butter.
It's time to kick-off cookie baking reason and head over to Amoretti's website to get started. Also, share your favorite recipes with cookie butter. I look forward to seeing how to incorporate cookie butter in other recipes.
Incredible Cookie Butter Cookies
Do you like ginger snaps and peanut butter cookies? Well, this simple yet delicious cookie recipe is what you need.
1

cup

packed brown sugar

1

cup

white sugar

plus more for dusting (optional)

1

cup

unsalted butter room temperature

2

eggs room temperature

1

tsp

baking soda

1

tsp

baking powder

1

tsp

vanilla extract

2½

cups

flour
In the stand mixer cream butter, peanut butter and sugars.

Beat eggs and add in two parts.

In a different bowl combine baking soda, baking soda and flour.

Add flour mixture to butter mixture in three parts until combined.

Refrigerate cookie dough for at least 30 minutes.

Pre-heat oven to 350 degrees and line cookie sheet with parchment paper.

Scoop 1 tablespoon cookie dough balls and place on cookie sheet.

Bake cookies for 6-8 minutes.

Let cookies rest for 2 minutes. Enjoy!
Keyword
cookie butter, cookies, holiday baking