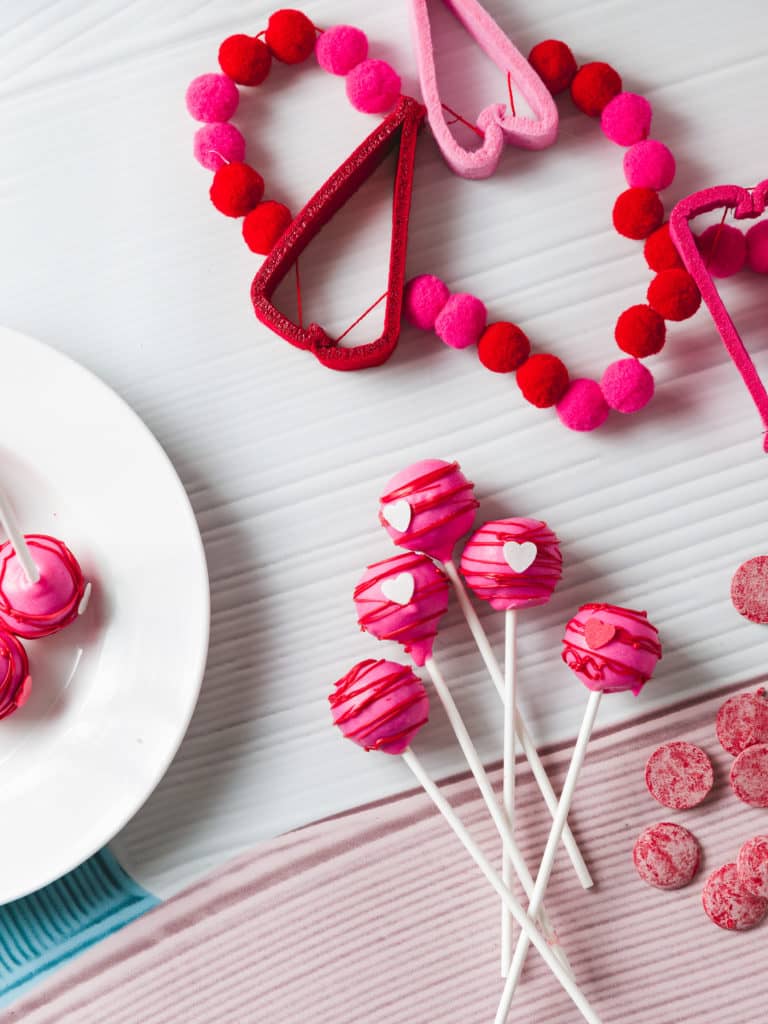 So how do you make cake pops? I have gotten this question so many times, and I have promised for years to share the steps and recipe for creating moist, not too sweet Valentine's Day cake pops. Well, today is the day, my friends! I have finally sat down to write the recipe and the best steps to making these delightful bites size desserts. Here you can find everything you need to get started.
How do I know so much about cake pops? Well, many ages ago, I ran a small bakery out of my house for about two years. Around that time, cake pops exploded on the scene, and I became obsessed with making the perfect ones. As a matter of fact, I will always remember the first batch I made (laughing to myself) because they were godawful nasty, and funny-shaped.
My first batch of cake pops
In all honesty, the first batch of cake pops looked the size of a baseball, hard as a rock, and you would go into sugar shock with one bite! (I almost did!) After that one bite, I was highly disappointed at that point and threw the entire pan of cake pops away. From there, I pouted about the time, product, and money wasted making that batch of cake pops. Luckily, I didn't fret for too long and went back to perfecting my recipe for cake pops.
Jump to Recipe
During this time, because cake pops were so popular, I studied other bakers' techniques and tried them out to see if they really improved my cake pops. At the same time, my biggest challenge was making cake pops less sweet so they would not send anyone into sugar shock. Eventually, I figured it out, so keep reading below for my best tips on making amazing cake pops for Valentine's Day and the fail-proof cake pop recipe. Additionally, I included a set of Valentine's Day gift tags to make cake pops extra special.
How to Make Valentine's Day Cake Pops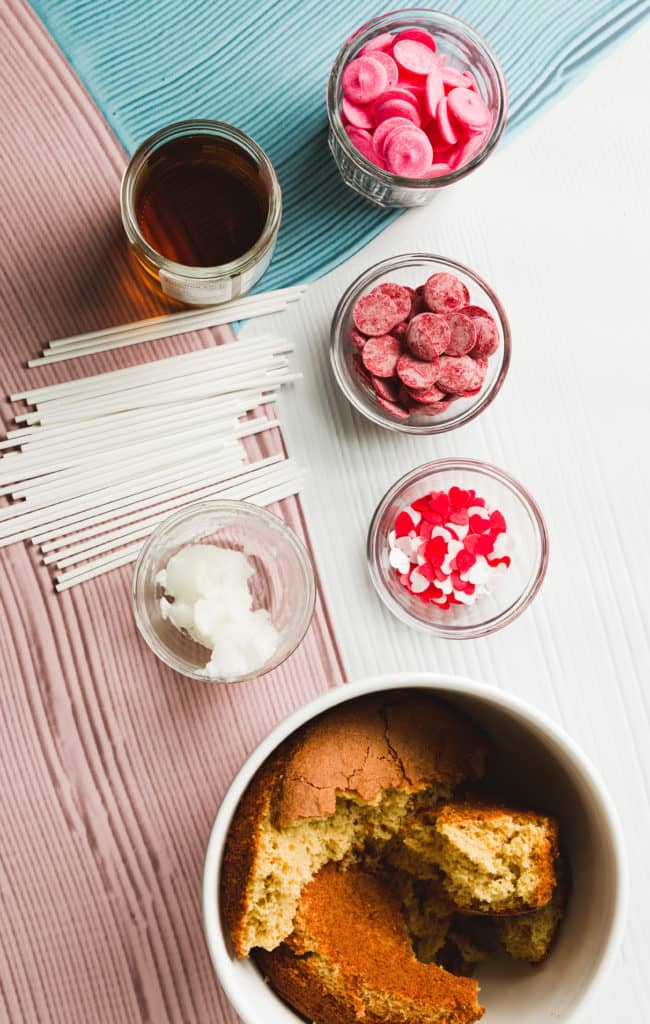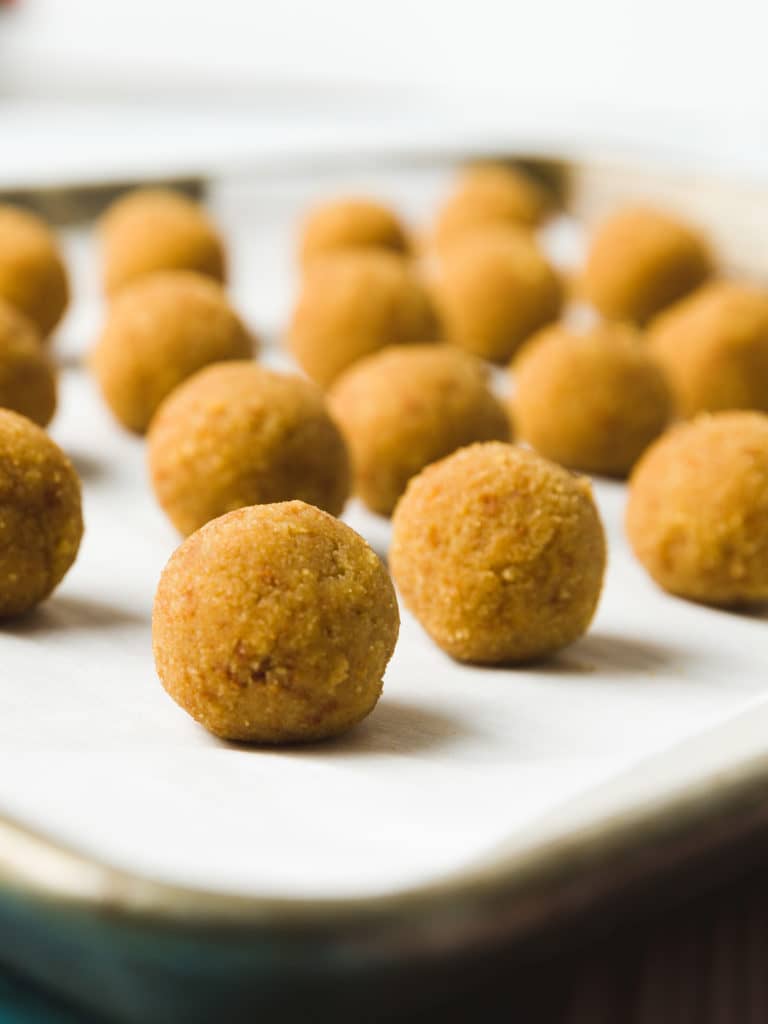 How to turn an old cake into cake pops?
Indeed, a few simple steps can turn any baked cake into cake pops. The first step is to crumble the cake in a stand mixer and slowly add simple syrup to make the cake pop dough so it can be rolled into tablespoon size cake balls. What if you don't have old cake to use? For this case, I whip up a cake using a box mix, substituting apple sauce for the oil, then preparing the cake as directed on the box. A cake from a box works perfectly every time.
What is in cake pop dough?
Again, this cake pop recipe makes cake pop dough using baked cake and simple syrup. The easiest way I found to get the cake in dough form is first to use a stand mixer to crumble the cake, then slowly add the simple syrup until the cake starts to form a dough.
How to make cake pops without icing?
Truly, I only make my cake pops without icing and only use simple syrup to transform the cake into dough form so that it can be scooped and rolled into small cake pop balls.
Can I freeze cake pops?
Yes, you can freeze cake pops just like you would freeze the cake. So with that, place the cake pops in the freezer, and when you are ready to enjoy them, allow them to thaw to room temperature.
Want Valentine's Day tags for your cake pops?
Of course, you want gift tags for your cake pops. I always like making my cake pops extra special by adding a customized gift tag. You can download gift tags here.
Other Desserts to try for Valentine's Day
Valentine's Day Cake Pops
These moist not to sweet cake pops are perfect for your Valentine's Day party or perfect to give as gift for Valentine's Day.
Simple Syrup
1

cup

sugar

1

cup

water

1

tbsp

vanilla extract
Cake Pops
1

box

cake mix

applesauce

The amount may vary depending on the brand of box cake mix you are using. The apple sauce replaces the oil in the box mix.

eggs

Use the amount of eggs directed on the box.

3/4

cup

simple syrup

The amount simple syrup also varies. Add small amounts until the crumbled cake starts to form a dough.

1

bag

chocolate (Candy Melts)

1

tbsp

Coconut Oil

This is used to thin the candy melt.

Valentine's Day sprinkles
Prepare cake
Prepare and bake the cake as direct on the cake box. Remember to substitute the apple sauce for the oil.
Simple Syrup
In a small pot combine sugar, water, and vanilla extract. Simmer until sugar is dissloved then let cool.
Make Cake Pop Dough
Once cake is cooled, crumble cake using stand mixer with paddle attachment.

Slowly drizzle the simple syrup in batches in to the crumbled cake.

Keep adding simple syrup until the cake is forms a dough. You will know done the cake pop dough starts to stick to the paddle attachment.
Assemble Cake Pops for Dipping
Using a tablespoon measuring spoon, scoop cake dough and rolled into cake balls. You should get 20-24 cake balls.

In a small jar/bowl melt chocolate (candy melts) in the microwave at 30 percent power in 2 minute increments until chocolate (candy melts) are melted.

Dip one stick at time in the chocolate (candy melt) and slightly press into cake balls. Allow the chocolate time to harden before dipping entire cake ball. You can speed up the process by placing the cake balls with sticks in the refrigerator. Please note this may cause the chocolate on the cake pops to crack later.

Dipping the cake balls with sticks

Remelt the chocolate if needed then add 1 tbsp of coconut oil. Mix until the the coconut oil is totally mixed into the chocolate.

Next, dip each cake pop into the chocolate/coconut oil mixture. Remove excess chocolate by tap tapping your hand while holding the cake pop not the cake pop stick. Tapping the stick may cause the cake ball to fall off into the chocolate.
Decorating the Cake Pops
After shaking off access chocolate, add sprinkles of choice

Once the chocolate has harden on the cake pops add additional designs with melted chocolate.
This post contains affiliate links. I may earn a commission if you use these links to buy something. Thank you for being so supportive!