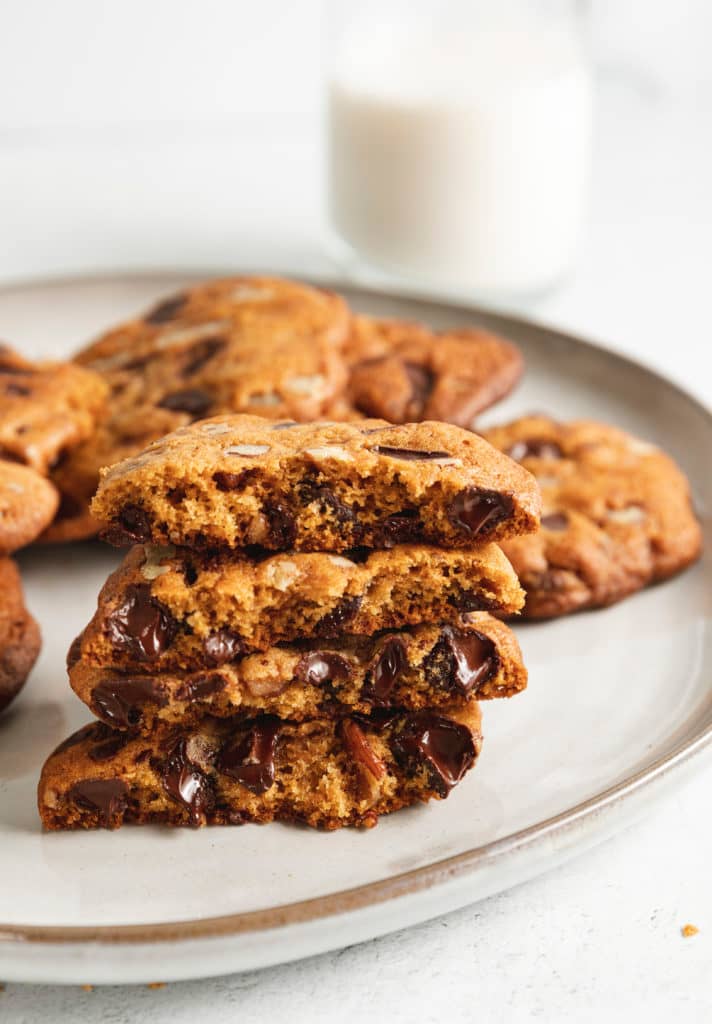 How To Make Chocolate Chip Cookies With Walnuts
First, you want to combine the dry and wet ingredients in different bowls. Then mix the dry ingredients into the wet mixture. Next, add in elements like chocolate chips and or nuts.
Here are the ingredients for this cookie recipe. Please know you can leave out the walnuts or only add walnuts to half of the cookie dough.
2¼ cups all-purpose flour
1 tsp baking soda
½ tsp salt
1 cup (2 sticks) unsalted butter, softened
2 large eggs
¾ cup granulated sugar
¾ cup coconut sugar
2 tsp vanilla extract
1⅔ cups bittersweet chocolate chips ( 10 oz.)
1 cup chopped walnuts
When baking cookies, remember to preheat the oven to the suggested temperature, then line a cookie sheet with parchment paper. I always bake with parchment paper because of the quick clean-up, but no worries if you don't have parchment paper. Without parchment paper, clean-up will require a bit more elbow grease. Now, to bake times, if a recipe calls for 10 to 12 minutes of baking time, I recommend using the smaller number then checking on the cookies. If the cookies are not golden brown just yet, continue baking for 1-2 minute increments.
Once the cookies are finished baking, allow them to rest for about 3 minutes before transferring them to a cooling rack. No cooling rack? Again, no worries, transfer the cookies to a plate for cooling.
Making Chocolate Chip Cookies Without Brown Sugar
This recipe does not use brown sugar but instead uses coconut sugar. Coconut sugar is a personal choice because I like the nutty flavor that coconut sugar provides. On the other hand, if you do not have coconut sugar feel free to substitute the coconut sugar with brown sugar. In some cases, I have come across cookie recipes with only granulated sugar, so if you only have white sugar, use 1 ½ cups of graduated sugar for the recipe.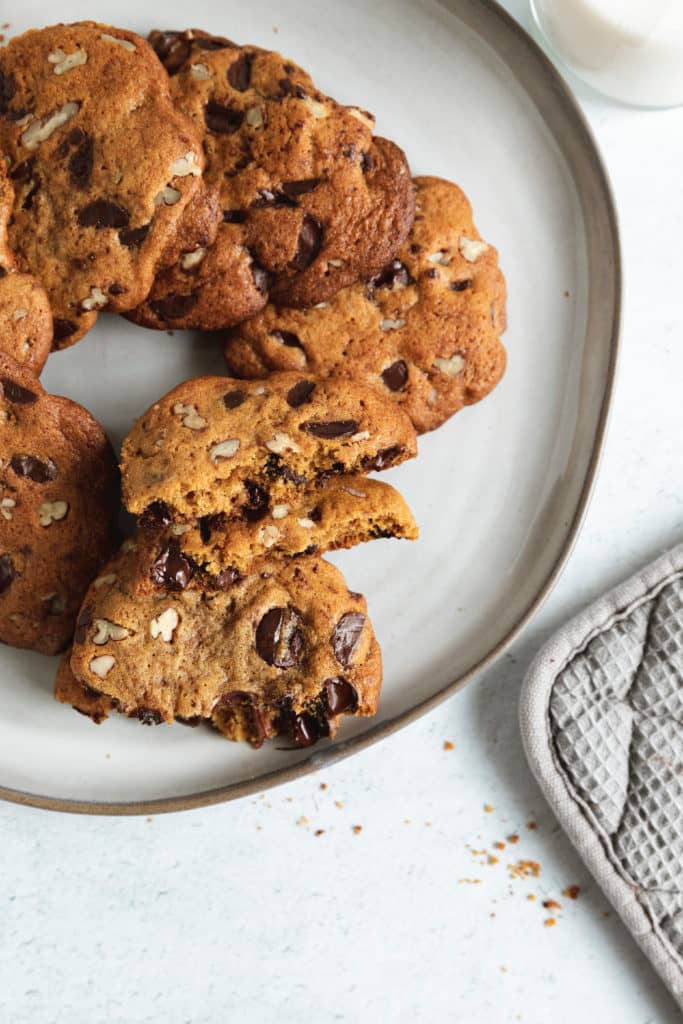 Can you send Chocolate Chip Cookies?
Oh absolutely! My method is to place the cookies in an airtight container and freeze them overnight. Then ship with a 2-day delivery date, and I also let the mail clerk know that the package contains food to make sure the cookies get to their destination in two days.
Chocolate Chip Cookies with Walnuts
2¼

cups

all-purpose flour

1

tsp

baking soda

½

tsp

salt

1

cup

(2 sticks) unsalted butter, softened

2

large eggs

¾

cup

granulated sugar

¾

cup

coconut sugar

2

tsp

vanilla extract

1⅔

cups

bittersweet chocolate chips ( 10 oz.)

1

cup

chopped walnuts
Preheat the oven to 375°F. (Skip this step if you are chilling the dough first.)

In a bowl, combine flour, baking soda, and salt. Set aside. 

With a mixer beat butter with both sugars at medium speed until creamy.

Add vanilla and eggs. Mix until well combined.

One cup at a time, add dry flour mixture into creamed butter mixture. 

Stir in chocolate chips and walnuts.

Place cookie dough in plastic wrap and chill for 30 or more minutes. 

When ready to bake, scoop tablespoons of cookie dough onto cookie sheets lined with parchment paper if you are skipping the refrigerator method.

Bake for 10 minutes or until golden brown.

Let cookies cool for 5 minutes and enjoy! 
Keyword
chocolatechipcookies, coconut sugar, cookies, walnuts
Other Holiday Recipes to Try