Jump to Recipe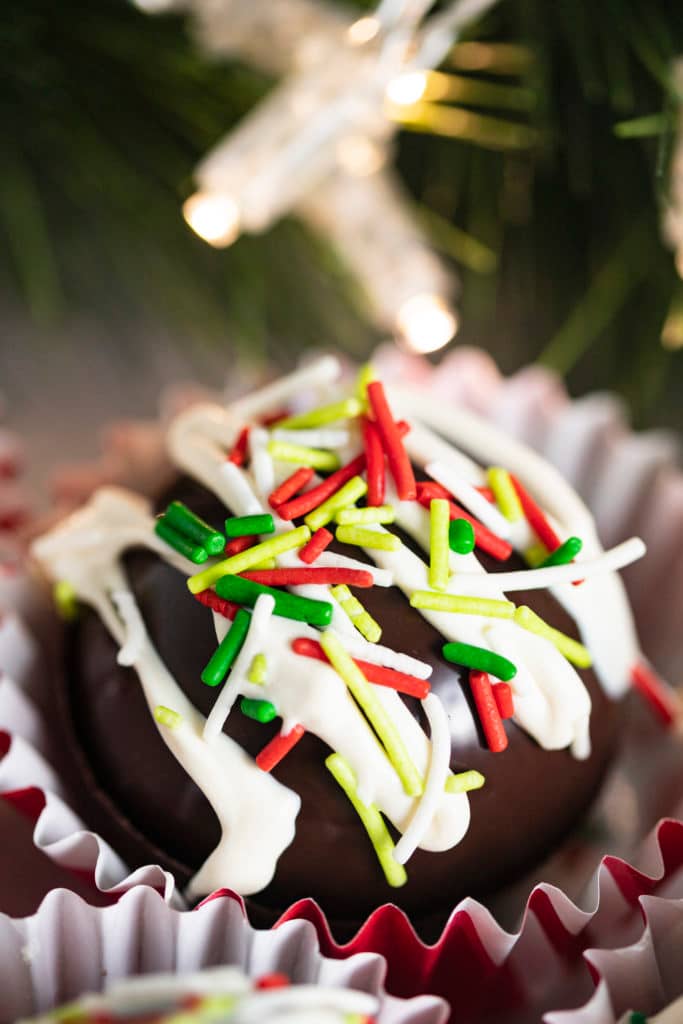 Hot cocoa bombs are now a chilly day favorite. This tempting treat is a chocolate ball filled with hot cocoa mix and marshmallows. When the bombs are met with heated milk or water the magic happens. Below I share the steps on how to make the cocoa bombs but grab a kit to keep things simple. But I do recommend picking up additional supplies just in case the kit materials are not enough.
How Do Hot Cocoa Bombs Work?
Hot cocoa bombs do feel like magic wrapped in chocolate. Even though the process seems magical, it is just the chocolate ball melting when touched by the hot liquid. Once the outside melts, pops out the goodies like the cocoa mix and marshmallows.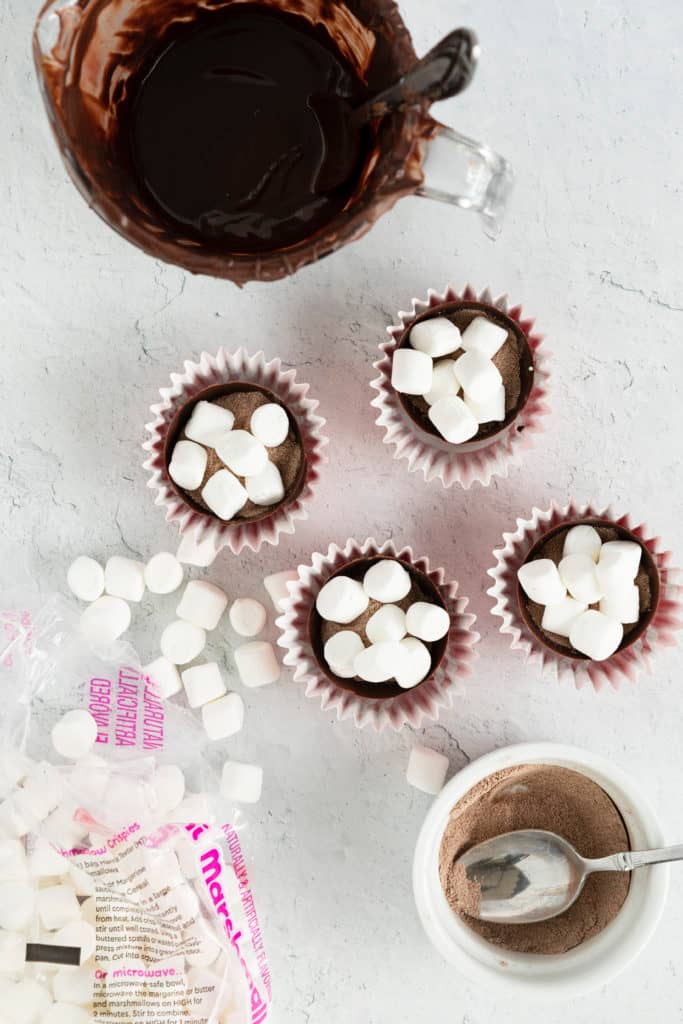 How To Make Hot Cocoa Bombs?
Making hot chocolate bombs is easy once you get the hang of the steps. I used Target's Hot Drink Bomb Kit to learn the process. With that being said, I highly recommend using the kit because it comes with the essentials such as a silicon mold and chocolate flavored wafers. The steps for hot cocoa are as follows: melt the wafters, scoop the melted wafters in the mold, next, a quick freeze, then fill and seal. Afterward, decorate the bombs with sprinkles or more melted wafers. 
Lastly, have patience with sealing the hot cocoa bombs, and remember any noticeable mistakes with dealing with the bombs are fixable more with decorations. 
Do I Use Hot Cocoa Bombs Milk Or Water?
When deciding between milk or water, it is totally up to you depending on your dietary needs or what is available. I use non-dairy milk such as macadamia milk or almond milk. Undoubtedly, hot cocoa is more satisfying with milk since it is creamier.
However, many hot chocolate mixes already have powdered milk in them, so you can get away with using hot water.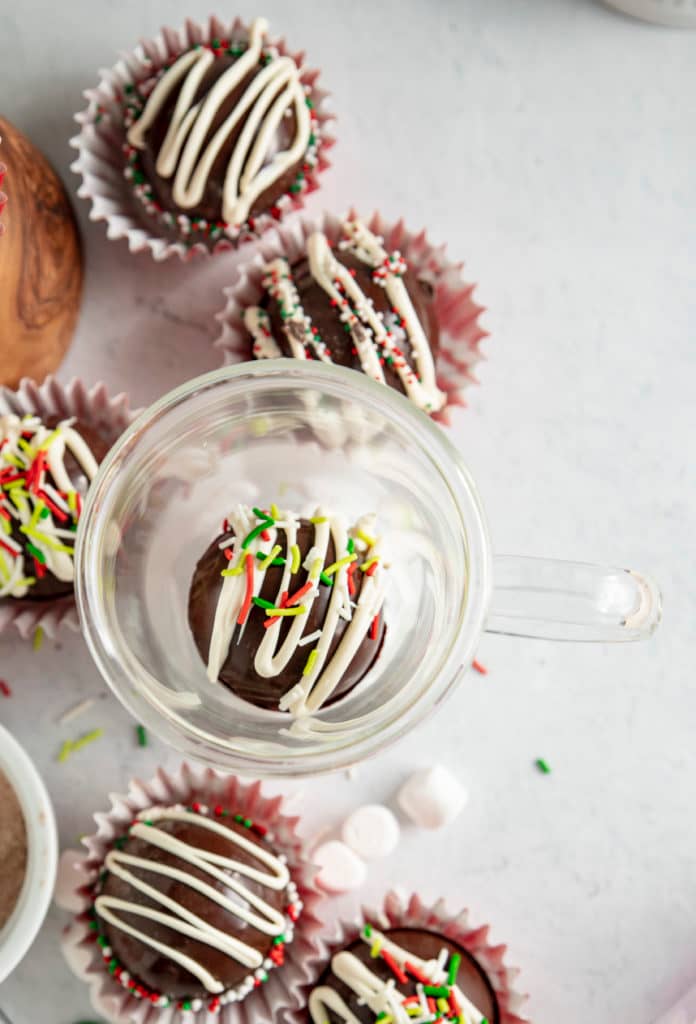 How Long Will Hot Cocoa Bombs Last?
Even though the ingredients are non-perishable, I recommend using the cocoa bomb within two weeks for optimal freshness. As you may know, marshmallows feel like concrete when exposed to air for too long. Store bombs in an air tight container.
Hot Cocoa Bombs As Gifts
Yes, and yes! Hot chocolate bombs are an absolute favorite, so instead of going with hot cocoa kits in a jar or cookies, switch it up with hot cocoa bombs! 
Hot Cocoa Bomb Recipe
Hot chocolate bombs are now a cold day favorite. This inviting treat is a chocolate ball filled with hot cocoa mix and marshmallows. Just add heated milk or water and the magic happens.
1½

cup

chocolate wafers

1

tsp

vegetable oil

cocoa mix

marshmallows

sprinkles

festive cupcake liners

optional
Place wafers and vegetable oil in a microwaveable bowl, then microwave at 50% power for about 1 minute.

Spoon chocolate in each cavity and spread chocolate throughout. Be sure the chocolate is spread to the top.

Place mold in the freezer for 3-5 minutes or until set. Invert and gently press to release cups. Repeat these steps as many times as you need to for the number of bombs you would like to make.

Place half of the cups in cupcake liners or back in the mold. (Helps with filling) Fill each half-sphere with cocoa mix and marshmallows.

Heat a small saucepan for about 5 minutes, then remove from heat. Rub an empty cup in a saucepan until the edge is slightly melted; quickly place on a filled half. Hold until sealed.

Decorate bombs with melted chocolate and top with sprinkles.

To enjoy, first, add marshmallows to a mug then one bomb. Next, pour heated milk or water until the bomb melts, then stir.
If you are using hot drink bomb kit follow the instructions provided with the kit. 
Keyword
chocolate, holiday drinks, hot drinks
Last but not least, be sure you share this recipe with friends and family. Even go ahead and pin it on Pinterest.
Other Holiday Recipes to Try
This post may contain affiliate links, which means I'll receive a commission if you purchase through my links, at no extra cost to you.