Colorful summer veggies roasted in dijon garlic butter.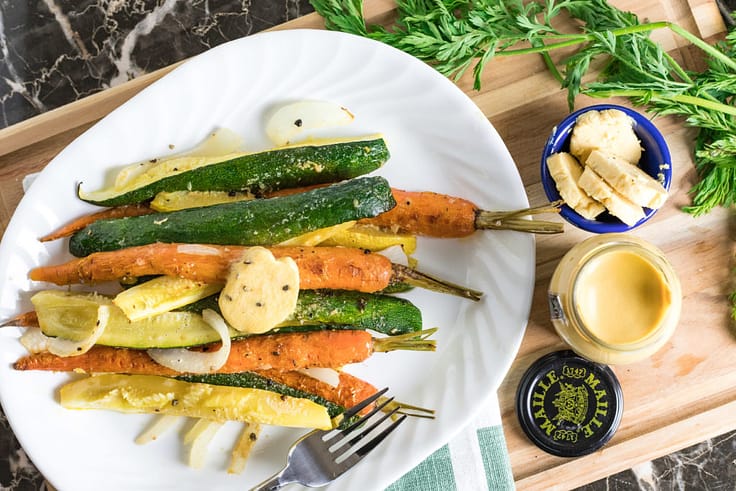 The summer is filled with sweet breezes, sun, and a rainbow of food. The summer brings this sense of urgency to enjoy every moment and try to fit everything and anything in a day because the days are long and memorable.
I want to fill the days with memorable activities so, I want to make dishes that don't take much of my time. I say 30-45 minutes from start to finish.
Summer is about eating the rainbow of flavors and colors, and there is no better way to do that than to roast a pan full of 3-4 in-season vegetables. But wait, we are not going to stop at oven roasting. We are also going to roast the vegetables in tangy robust dijon garlic butter. Regular butter, boring Dijon garlic butter, hello!
The Butter that Will Change Your Life!
Yes, to the butter! I think this garlic dijon butter with Maille's Dijon Originale is now my favorite savory butter. The fresh garlic with the added Mellie dijon is the perfect combo of tang and salt. I tested the butter all by itself and did a little dance. The Maille's Dijon Originale is the secret ingredient to giving this butter it's full flavor.
Now, what I love about the garlic dijon butter is that you can use it for other dishes like toasted french bread, a juicy steak or even to sear a few chicken thighs.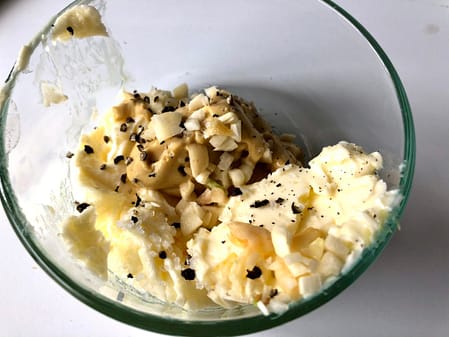 What more Maille Traditional Dijon Originale Mustard recipes?
Check out the Facebook group, My Maille Community. The Facebook group has more than 50,000 members and a fun way to discover new recipes and make new friends. You can find me there if you needed another reason.
---
Summer Roasted Vegetables with Garlic Dijon Butter
Keyword:
carrots, roasting pan, squash, summer, sweet onions, zucchini
Print Recipe
Dijon Garlic Butter
Place butter mixture on a piece of plastic wrap, form mixture into a log. Wrap up and twist the ends.

Chill in the refrigerator for at least 2 hours before preparing vegetables.
Summer Vegetables
Preheat oven to 325 degrees.

Rinse zucchini, yellow squash, and carrots.

Slice zucchini and squash in forths, lengthwise. Slice carrots in half, lengthwise. Slice yellow onion.

Place all vegetables on a large enough roasting pan, so there is only one layer of vegetables.

Season vegetables with salt and pepper. Set aside.

Slice the butter log in half and melt butter to spread on vegetables.

Brush all vegetables with melted dijon garlic butter.

Place the pan of vegetables in the oven for 20-25 minutes or until vegetables are tender.

Serve immediately with a slice of garlic dijon butter.
Pro Tip: It is better to under roast than over roast. No one wants mushy veggies.
---
Other uses for the Garlic Dijon Butter
Grilled Cheese
Roasted brussel sprouts
Sautéed green beans
Corn on the cob
Steak
Roasted chicken
Baked fish
This posted is sponsored by Maille