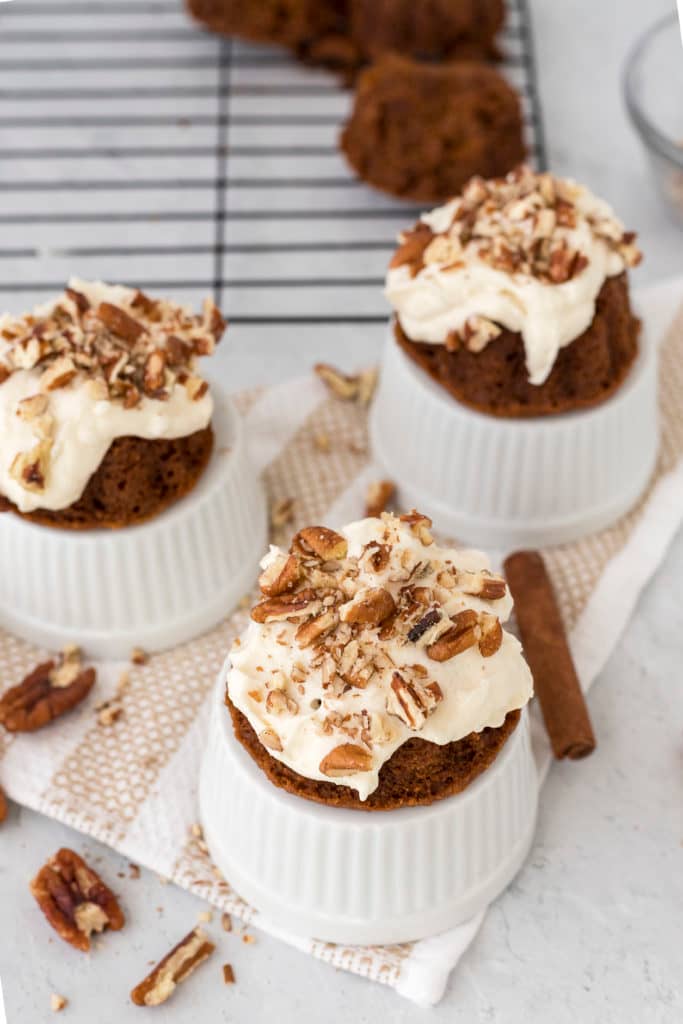 Jump to Recipe
If you are searching for a light and effortless dessert that won't leave you feeling heavy, this Sweet Potato Mini Cake recipe is for you! Even though this recipe is gluten-free, you will not miss gluten because the cakes come out fluffy and moist and just melt in your mouth. You can enjoy these mini cakes without the vegan cream cheese frosting. But for more razzle dazzles and sweet indulgence, add as much vegan cream cheese frosting as possible to the mini sweet potato cakes!
My Journey With Vegan And Gluten-free Eating
Why am I now taking on gluten-free and dairy-free cooking? Well, in the first year of the pandemic, I ate everything under the sun, and I mean everything. I ate takeout, stopped by my favorite bakery on the regular BW Sweets in Charlotte, NC, and ordered not one, but two slices of strawberry cheesecake crunch cake combo. In my mind, I did God's work by supporting local restaurants, and my support was needed to keep them afloat during the pandemic. I personally took this challenge to the point where I didn't even recognize myself in the mirror, nor did any of my stretchy clothes fit, and the scale hit new numbers I hadn't seen before. But there was peace when the battery in the scale finally died, and you better believe I have not replaced the battery in the scale.
Although I felt unrecognizable, I had grace for myself and showed my body kindness. This body is living through a pandemic and fighting COVID-19 at all levels. I remembered that I was doing my best to cope with the isolation of the pandemic and constantly dealing with the fear of what if I caught COVID? Over in my head, I mulled over questions like, "Would I survive Covid, and who could help support me in my recovery?" So, I decided to make some changes to help support my mind and body during struggling to survive the pandemic.
Time for change, and the time came in June 2021 with a dreaded return to the office after working from home for almost 15 months. And just like that, I was back in the whirlwind of waking up at 5:30 am, getting ready and fighting traffic, then working eight hours and making the 30-minute afternoon commute back home. Y'all… Returning to the office during the pandemic brought an extraordinary level of exhaustion that I can't even put into words. That was when I knew that things had to change, and the change had to start with my diet.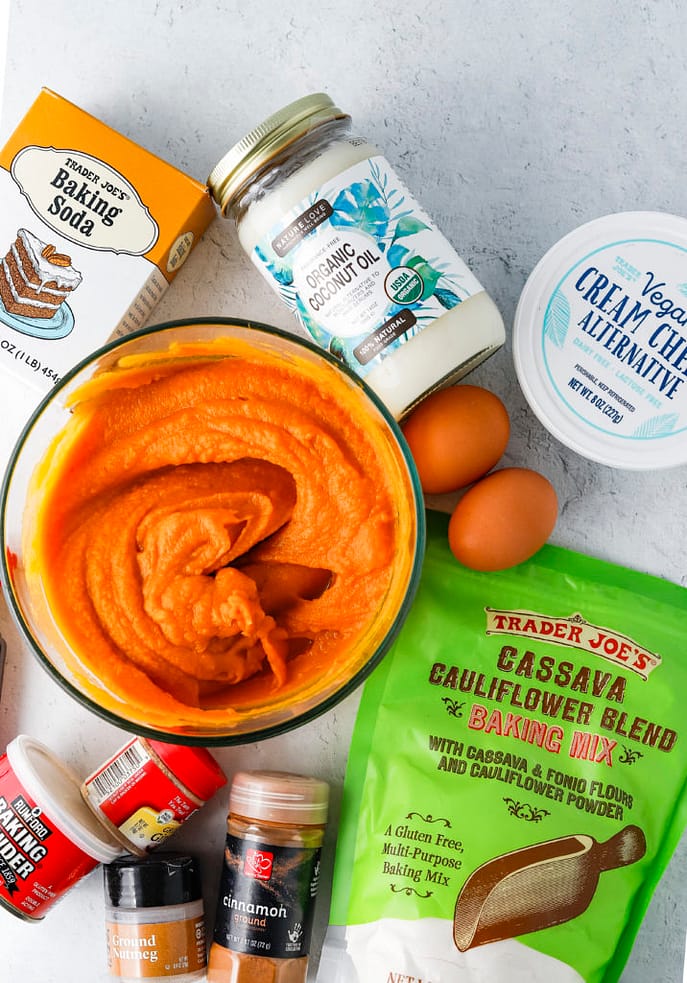 I began reading various health books on how energy levels correlate directly with foods in our diet, and how removing dairy and grains from your diet can help repair the digestive system, which could increase energy levels. I also read that if I wanted to push it up a notch, I should consider adding intermittent fasting. Welp, that is what I did! I gradually reduced myself to two meals a day in a given time frame (10 pm-5 pm) and made sure my meals were full of healthy vegetables and no grains with limited sugar. I'm excited to say the pounds started melting and that I have the energy to make it through the day without feeling exhausted. Do I still eat grains and dairy products? Yes, but not often do I limit myself to once or twice a week to give myself some freedom. As I personally experienced the life-changing benefits of reducing grains and dairy products in my diet, I am now reworking recipes to eliminate both. One of my first recipes is this Gluten-Free Sweet Potato Mini Cakes With Vegan Cream Cheese Frosting. Keep reading more tips and tricks for this recipe.
Making Sweet Potato Puree
Sweet potato puree sounds fancy and complicated simultaneously, well at least it does to me, but it is actually a simple start-forward process.
First, bring a pot of water to a boil. Add 4 clean, medium-sized sweet potatoes and cook until tender. (You should easily stick a fork through the potatoes). Once the sweet potatoes are tender, run the potatoes under cold water and peel, but be careful not to burn yourself.
Add peeled sweet potatoes in a food processor and process until smooth. You may need to puree the sweet potatoes in multiple batches depending on the size of your food processor. Feel free to add a few tablespoons of water to the processor if needed. No food processor? No problem, just add the sweet potatoes to a stand mixer with a paddle attachment to process the sweet potatoes until they are smooth.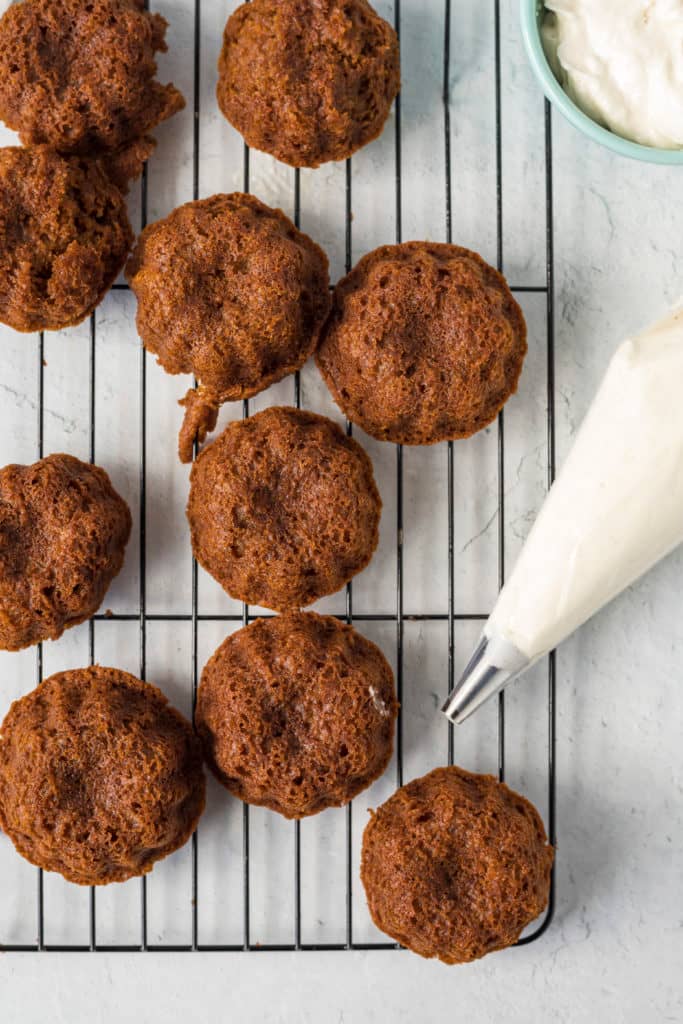 Tips for this recipe:
Feel free to skip the icing to reduce the sugar. I had the cakes without the icing, and they were just as captivating.
If you don't have a mini bundt cake pan, please use a cupcake pan, since this recipe works the same for cupcakes.
Make the cakes a day ahead, then frost. The cakes can be stored up to 3 days in an airtight container
Save some vegan cream cheese frosting for cinnamon rolls or bagels. Yum!!
Looking For More Recipes?
If you are looking for more dessert recipes check out this INCREDIBLE COOKIE BUTTER COOKIES recipe.
Gluten-Free Sweet Potato Bundt Cakes With Vegan Cream Cheese Frosting
These cakes are perfect for week night dessert and that they are gluten-free with vegan cream cheese makes them feel guilt-free.
Gluten-Free Sweet Potato Mini Bundt Cakes
¾

cup

all-purpose gluten-free flour

1

tsp

ground cinnamon

1

tsp

baking powder

½

tsp

salt

½

tsp

baking soda

⅕

tsp

nutmeg

⅛

tsp

ground ginger

¾

cup

sweet potato puree

7

tbsp

coconut sugar

½

cup

coconut oil

Plus a little extra to grease pan

2

large eggs
Gluten-Free Sweet Potato Mini Bundt Cakes
Preheat heat oven to 350 degrees and light grease bundt pan with coconut oil

Mix flour, cinnamon, baking powder,baking soda, salt, nutmeg, and ginger together.

Mix sweet potato ,sugar, oil, and eggs together in another bowl until smooth.

Then stir sweet potato mixture into flour mixture until combined.

Scoop 1/4 cup into batter into each bundt cake cake cup.

Bake for 15 to 20 minutes or until a toothpick come out clean.

Let cakes cool for 10 minutes then remove from pan to completely cool.
Vegan Cream Cheese Frosting
Using stand mixer fitted with paddle, beat vegan cream cheese, vegan butter, , vanilla,and salt until smooth on medium. Reduce speed and in parts add sugar, and beat until smooth.

Increase speed and beat until frosting is airy and fluffy.
Assemble
Pipe each cake with vegan cream cheese icing and top with chopped pecans. (optional)
Keyword
cream cheese, gluten-free, sweet potato, vegan