This cranberry cocktail is perfect for all of your holiday entertaining needs. Super simple to throw together but will wow your guest at the same time! (Recipe for 21+) Please drink responsibly.
Jump to Recipe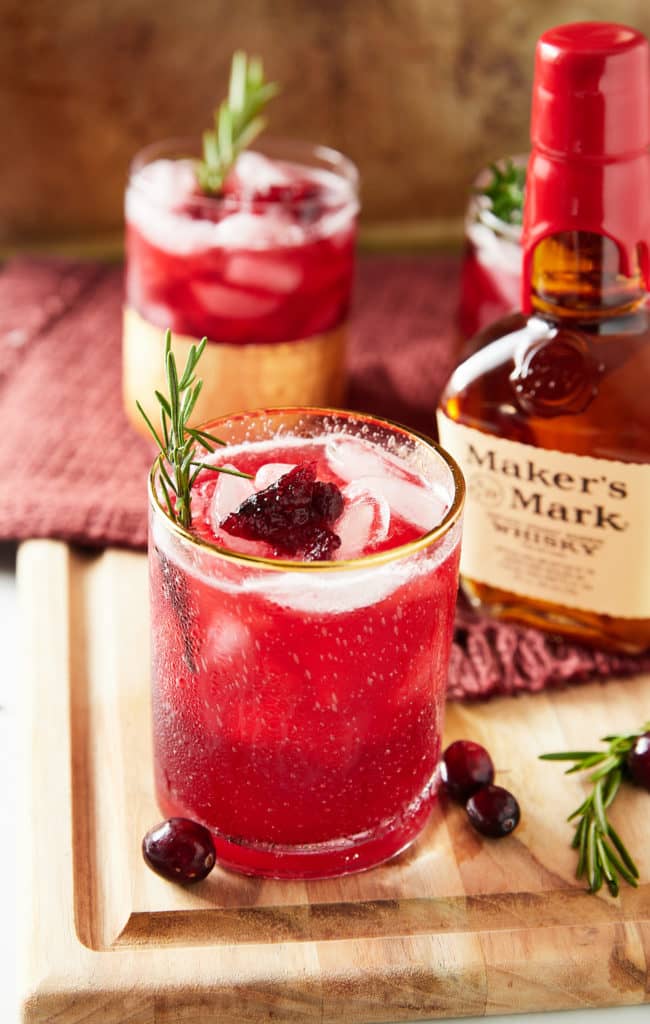 Are you reading for holiday entertaining? Silly question, I know because who is ever ready for holiday entertaining so much to do from shopping to communicating plans and actually sticking to those plans. Yes, the holidays are stressful, but family and a few cocktails make it all the fun. Each year I get a little better at serving up a cocktail that wows my family, and this Cranberry Whiskey Lemonade cocktail is a clear winner. On that note, you can be a winner, too, since you probably already have the ingredients to pull off this recipe. So the fresh ingredients paired with Maker's Mark whiskey will give you holiday hosting the vibe it needs.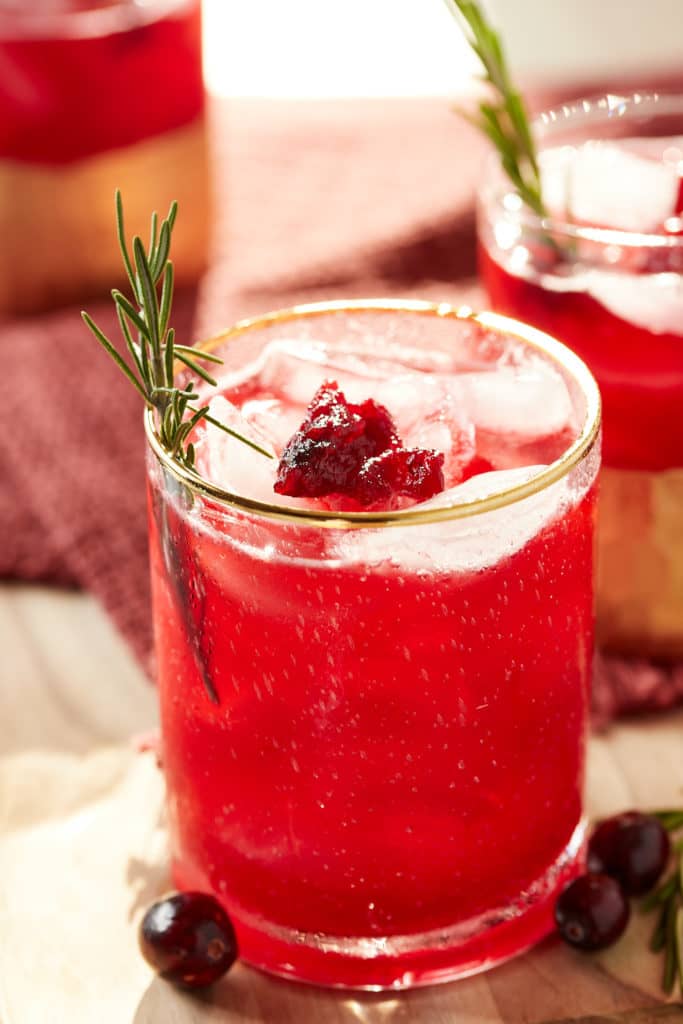 About Maker's Mark
Bill Samuels, Sr. set out to create a bourbon using his family's 170 year-old recipe. However, when his family's distiller was set on fire, he got creative. To save time in the aging process, Bill decided to swap out traditional rye grain for soft, red winter wheat. This switch is what gives Maker's Mark its delicate sweetness rather than the hot bite of other bourbons.
Maker's Mark Wax Dipping Maker's Mark believes that some of the best things are worth taking the time to perfect by hand. Since Margie Samuels, who founded the distillery with her husband, bottles have been hand dipped and sealed in signature red wax. Back in his day, Bill Samuels Jr, son of Maker's Mark founders, claimed to even be able to tell who dipped each bottle just by looking at the wax. That hand dipped seal is still done to this day, and the classic red wax lets drinkers know they are about to enjoy a delicious bourbon, made with care.
Source: Marker's Mark
Tips For This Recipe:
Prepare the cranberry syrup up to three days in advance. Preparing the syrup in advance gives it ample time to cool and the flavors to come together.
Step up your presentation with a bomb cocktail glassware set. Pretty glassware always gets everyone excited about the cocktail in it.
Save the felt over cranberry pulp for oatmeal, baked goods, or even waffles.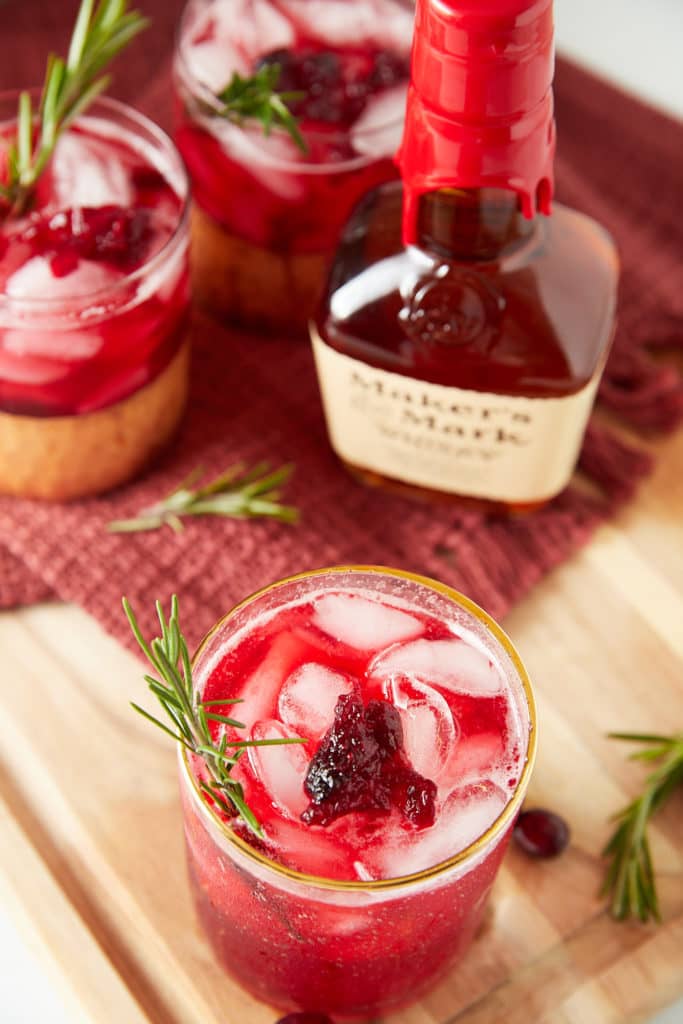 Cocktails in Charlotte, NC
Going out for drinks is a fav, and I am lucky to live in Charlotte, NC, where bars make out-of-this-world specialty cocktails. I am talking about some of these places that don't even have a menu. Instead, tell them what you like and or taste, and they mix up the perfect cocktails for you. If you live in Charlotte or visit soon, here are there places to put on your list for unique cocktails:
Leah & Louise (Camp North End)
Address: 301 Camp Rd, Charlotte, NC 28206
Billy Sunday (Optimist Hall )
Address: 1115 N Brevard St UNIT 1 Charlotte, NC 28206
Idlewild (Plaza Midwood)
Address: 424 E 36th St Charlotte, NC 28205
Cranberry Whiskey Lemonade
This cranberry cocktail is perfect for all of your holiday entertaining needs. Super simple to throw together but will wow your guest at the same time!
Fresh Cranberry Syrup
12

oz

bag of cranberries

2

tbs

lemon juice

1

tbs

water

2

cups

granulated sugar

1

cup

cranberry juice

1

tsp

vanilla
Cranberry Whiskey Lemonade
Fresh Cranberry Syrup
Combine the cranberries, lemon juice, water, and sugar in a saucepot and heat up over medium heat.

Cover and simmer for about 15 minutes. Stir often to prevent the sugar from burning.

Once cranberries have popped stir cranberry juice and vanilla. Cook for another 5 minutes.

Strain cranberry mixture through a fine-mesh strainer. If the syrup is too thick add more cranberry juice or water.
Cranberry Whiskey Lemonade
In a shaker combine Marker's Mark whiskey, lemon juice, blackberry syrup, and a sprig of fresh rosemary with ice.

Shake until ingredients are chilled and combine.

Strain mixture into your favorite cocktail glasses filled with ice. Top drinks with tonic water and a rosemary sprig.
If you try this recipe, let me know! Leave a comment, rate it, and don't forget to tag a photo #eatingwitherique on Instagram. I would love to hear from you.