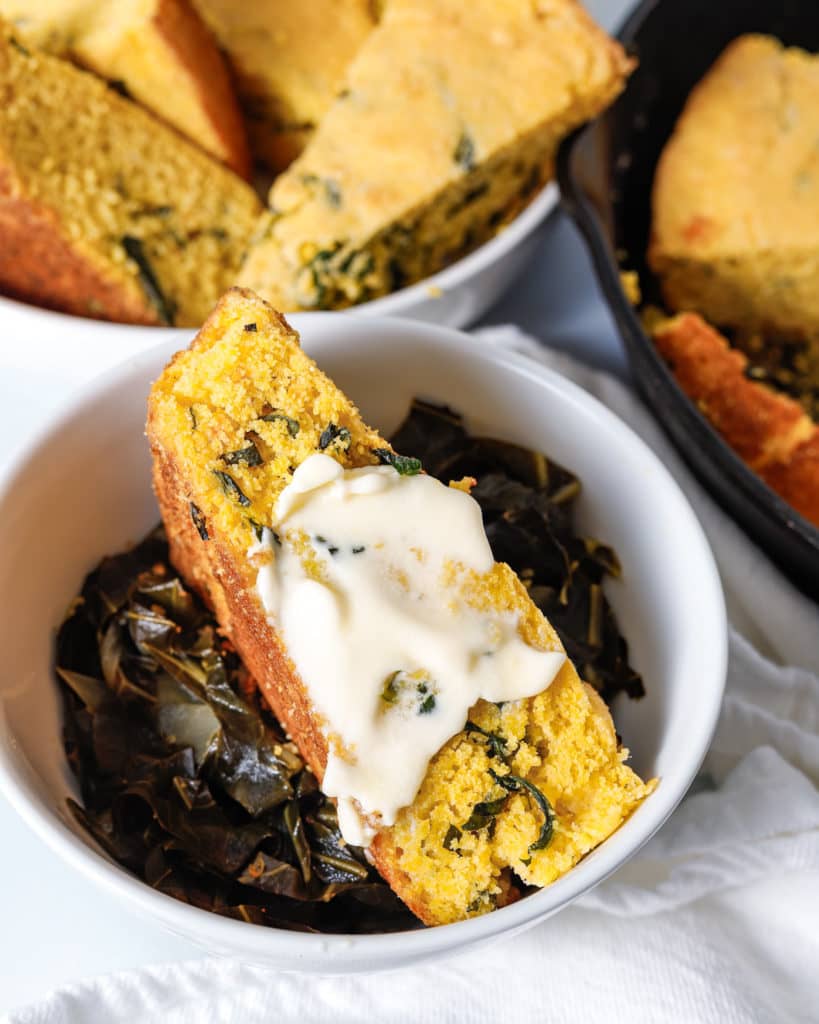 Jump to Recipe
I'm participating in the 2021 Black History Virtual Potluck. A collaborative menu of recipes contributed by 40+black bloggers from around the globe in honor of Black History Month. See a sampling of some of the amazing participant recipes down below. 
---
Happy New Year! The new year is one of my favorite holidays because it signals a new beginning. It is a fresh start and a day to dream/plan what the year will bring. For me, New Year's day has always been a day of relaxation from the holiday, and one final pause before life somewhat returns to the everyday hustle and bustle.
The Traditions of the New Year
Oh man, when I think about all the traditions for the new year, I get overwhelmed. Really I do. First, let's start with the tradition that a man must walk in the house before anyone else once the clock hits midnight. My grandmother says it is good luck for a man to be the first to walk in the house. Like, who decided this?
Next is the cleaned house from top to bottom tradition. I mean, every room in your home must be clean and organized to have a successful year. Wait, did I mention that includes laundry washed, folded, and put away. I will be the first to tell you that I never meet this expectation of the new year. Folded laundry neatly put in drawers is my Achilles heel. Folding clothes and I don't get along. Haha. However, I do my best to purge items that I no longer need or clothes I haven't worn in seasons, but my entire house clean before the strike of midnight well, that has not happened in years.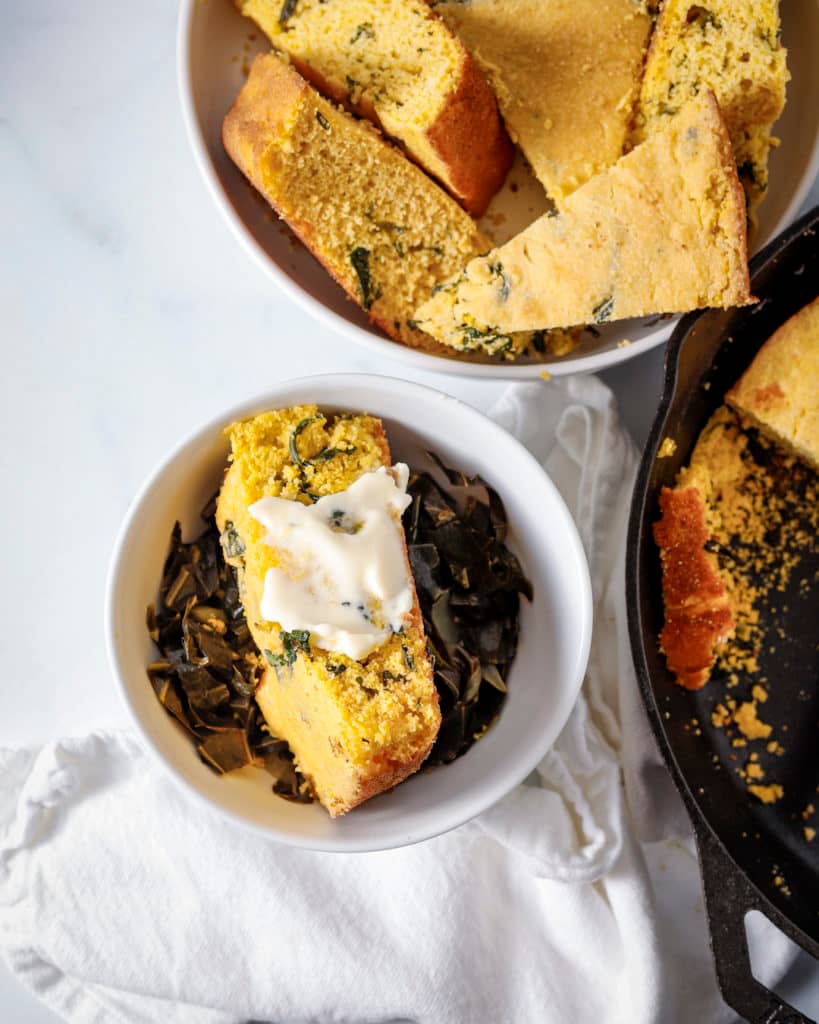 Now, to the tradition I get behind every year—the tradition of collard greens, blackeye peas, and cornbread for prosperity. Truth be told, I really don't believe that eating these items will bring prosperity, but I do make them every year because it reminds me of my childhood growing up with my mom. The year 2021 makes sixteen years since my mom passed away, and as I have shared before, my mom is my favorite cook, so cooking the traditional New Year's meal brings me back to her.
When I was thinking about growing up with my mom, she always made sure that we have the traditional New year's dinner, including collard green, black eye peas, and cornbread, to bring prosperity into the year. The collard greens represent dollar bills, the black eye peas represent coins, and the cornbread represents gold. I didn't grow up with much money, so my mom did not take any chances of our household missing out on money because we did each the traditional meal.
Cornbread with Surprises
This cornbread recipe is my new favorite cornbread recipe because it brings a few southern favorites together. Those favorites being collard greens and sweets potatoes. I will share that you will not taste the sweet potatoes that much much, but it will give your cornbread character with the orange specks sprinkled in. The collard greens also add in the bright green speaks, making this cornbread recipe fun and interesting.
Tips for this Recipe
You don't have to use a cast iron pan feel to use a deep banking dish or a cake pan.
Don't over-salt the greens during the sauté process. Trust me; you taste salt later.
If you are a Jiffy Cornbread mix fan, this recipe is not as sweet a Jiffy, but you can add more sugar to make it sweeter.
Feel free to add more buttermilk if your batter does not see. "wet" enough.
Buttermilk Cornbread Sprinkled with Sweet Potato and Collard Greens
Cornbread and Collard greens are a match made in heaven and an absolute southern favorite. Adding in the sweet potato makes this an instant southern favorite to enjoy any day of the week. Be sure to store left over cornbread in air-container.
6

tbsp

unsalted butter melted, divided. Plus extra for cast iron pan.

2

cups

thinly sliced collard greens

1/2

cup

mashed sweet potato

3

large eggs

1½

cups

buttermilk

1

⅔

cups yellow cornmeal

¾

cup

all-purpose flour

⅔

cup

sugar

1

tbsp

baking powder

1

tsp

salt
Preheat oven to 375 degrees. Coat 12 inch cast iron frying pan with unsalted butter.

Heat 1 tbsp butter in a skillet and add collard greens. Add a little salt for seasoning. Cook greens until tender about 6 minutes.

Whisk together mashed sweet potato, eggs, and buttermilk. Then add the remaining melted 5 tbsp of butter. Fold in collard greens.

In a separate bowl whisk together cornmeal, flour, sugar, baking powder, and salt.

Fold flour mixture into sweet potato mixture.

Pour the mixture into 12 inch cast iron frying pan. Spread evenly.

Bake for 25-30 minutes or until an inserted toothpick comes out clean.

Cool on rack and top with more butter.
Keyword
collard greens, cornbred, sweet potato
Pair this cornbread with BROWN-SUGAR GARLIC CHICKEN THIGHS
If you try this recipe, let me know! Leave a comment, rate it, and don't forget to tag a photo #EatingWithErique on Instagram. Happy New Year, foodies!
Here are some recipes to try from talented Black food bloggers! #BHMVP2021