All-purpose Flour or Cake Flour? I Put Cake Flour to the Test with this Blueberry Waffle Recipe
Cake flour transforms waffles to light and fluffy texture, and allows to you feel the butter in every bite. Waffles with all-purpose flour often come out too thick like a biscuit and extremely crunchy straight from the waffle iron from my experience. No one wants hard thick waffles, I am mean no one! The best waffles are the best when they are light and fluffy and pair with fresh blueberries. Through this post, I will take you the journey of using cake flour for your everyday waffle.
Jump to Recipe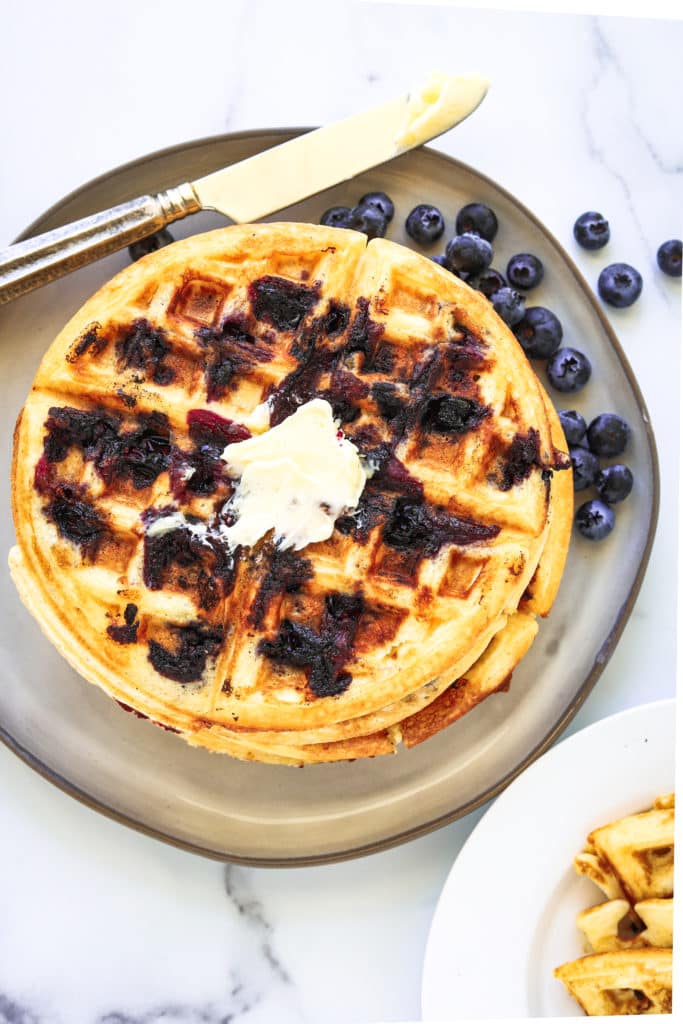 What is Cake Flour?
Cake flour is a light flour with a lower protein content than all-purpose flour and contains the least amount of protein when compared to other flours. Because cake flour has less gluten-forming protein, waffles come out more tender and fluffy. If you need cake flour in a pinch, head over to your pantry, grab 1 cup of the flour, then remove 2 tablespoons of that flour. Next, add 2 tablespoons of corn starch then shift the all-purpose flour and cornstarch mixture a few times. Boom! You have cake flour.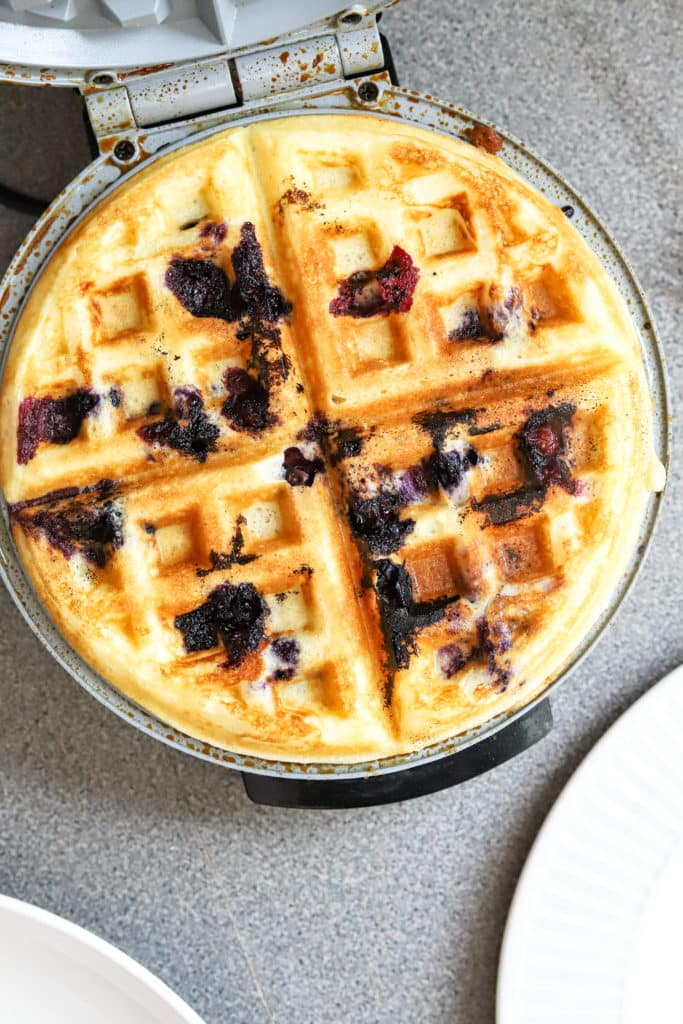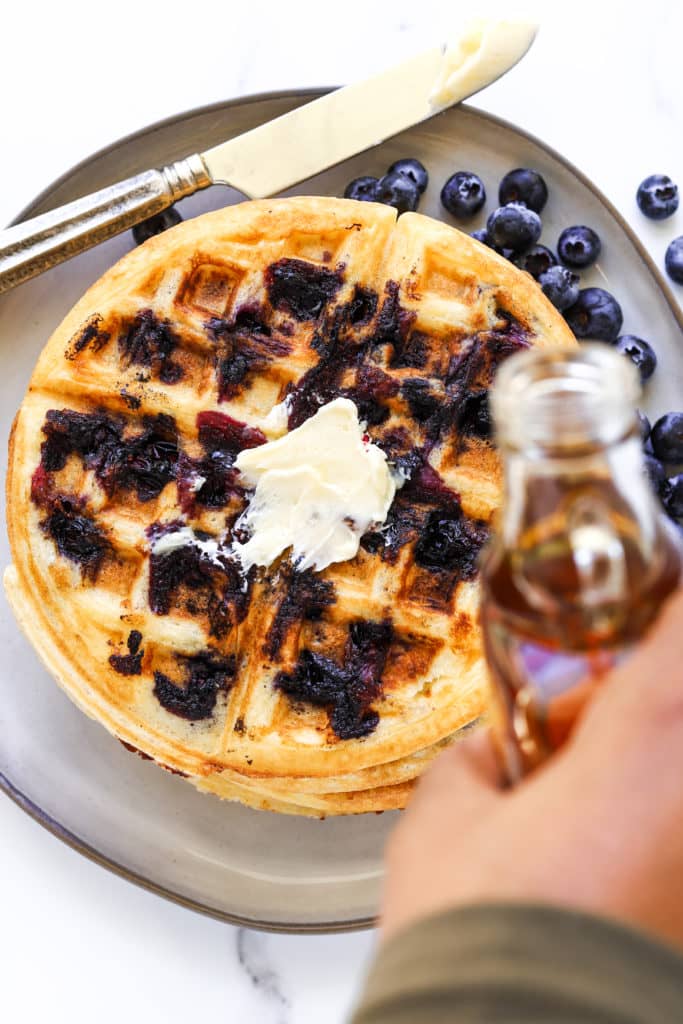 My Take on Cake Flour
I have used cake flour many times, especially back in my bakery business days. I enjoy the lightness of cake flour, and it gives cakes eye-dropping texture. The side of cake flour I don't appreciate as much is the cost. A typical box of cake flour cost is $4-$5 for a 2-lbs once box versus $3 for a 5-lbs bag of all-purpose flour. Typically a sizable amount of flour is wasted in producing any cake, so my anxiety went up any time any cake flour escaped my measuring cup or bowl. You are probably asking, "Why not make the cake flour yourself?" I do not want to have to measure one more ingredient in baking. My verdict is that cake flour is essential and transforms the texture of baked goods to a textured desired by any baker. My advice is to grab cake flour when it is on sale or make cake flour your cake flour.
Uses for Cake Flour
Muffins
Pancakes
Cakes
Cookies
Fried Chicken
Pie Crusts
Biscuits
Donuts
Tips for this Recipe
Ok, I know I said cake flour could be expensive, but cake flour is now my go-to for waffles. For this recipe, make sure to pre-heat the waffle my My waffle iron shows a green light when it is ready. Don't overbeat the batter expect lumps, and when it comes to the blueberries, add them when you to the batter in the waffle iron. Lastly, your waffle is cooked to perfection more than likely when the waffle iron stops steaming. Oh don't forgot to pour on the maple syrup! YUM!
Now that you have the deets on cake flour and the tips for pulling off this recipe try it out and tag me in your blueberry waffle pictures on Instagram @eriqueberry
Blueberry Buttermilk Waffles
Whip up these flakey and buttery waffles for breakfast any day of the week.
In a large bowl whisk cake flour, baking powder and salt until blended.

In a different bowl beat eggs and buttermilk until well blended.

Add flour mixture to and mix lightly with a fork until combined.

Add butter and the mixture should now be lumpy. Leave lumps

Pour 1/2 to 3/4 cup of batter on the center of the waffle iron and spread to the edges

Quickly add 5-6 blueberries to the waffle batter.

Cook waffle until the waffle iron steam stops or follow manufacturer's instructions.

Immediately serve waffles with maple syrup or your favorite jam. Feel free to top with more blueberries.
Keyword
blueberries, breakfast, cake flour, mable syrup, waffles