Jump to Recipe
The best mayonnaise for southern deviled eggs is homemade mayonnaise. Yep, homemade, and I can understand that the thought of homemade mayonnaise can seem like a lot of unnecessary work. But with a food processor, the process is uncomplicated and quick. This southern deviled egg recipe has all the Southern feels you are used to and surprisingly has a lot fewer steps than you think.
On that note, continue reading learn how store-bought mayo that can be used in this southern deviled egg recipe and how to peel your hard-boiled eggs perfectly.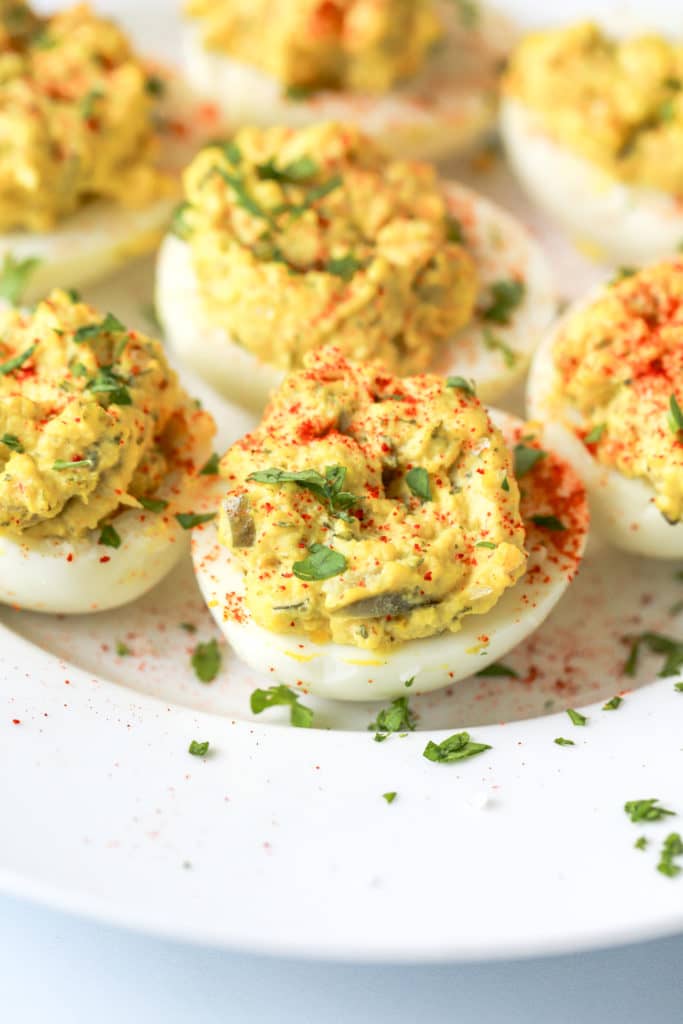 How To Make Southern Deviled Eggs?
If you are new to cooking, delivered eggs are a great place to start because they are a straightforward recipe that does not take much time. Plus, if you happen to mess up the deviled eggs, it will not completely ruin a gathering.
I use homemade mayonnaise in this recipe, but you can sub this deviled egg recipe for store-bought mayonnaise. With 1 cup of store-bought mayo, add 1 tablespoon of lemon juice, 2 tablespoons Provence herbs and 1 teaspoon kosher salt, and 1 teaspoon dijon mustard. Then mix and follow the deviled egg recipe as written. On the other hand, you can skip adding the herbs altogether, depending on your feelings.
Above all, don't fret if your eggs don't peel perfectly. The best piece of advice I can offer here is to be sure to use older eggs. In the past, I have used pasture-raised straight from the farm and had a terrible time peeling them. Waiting a week or so to use that carton of eggs would have made a hell of a difference. If you want less hassle, use Store brought eggs to work better since it does take time for cartons of eggs to get from the farm to the store shelves.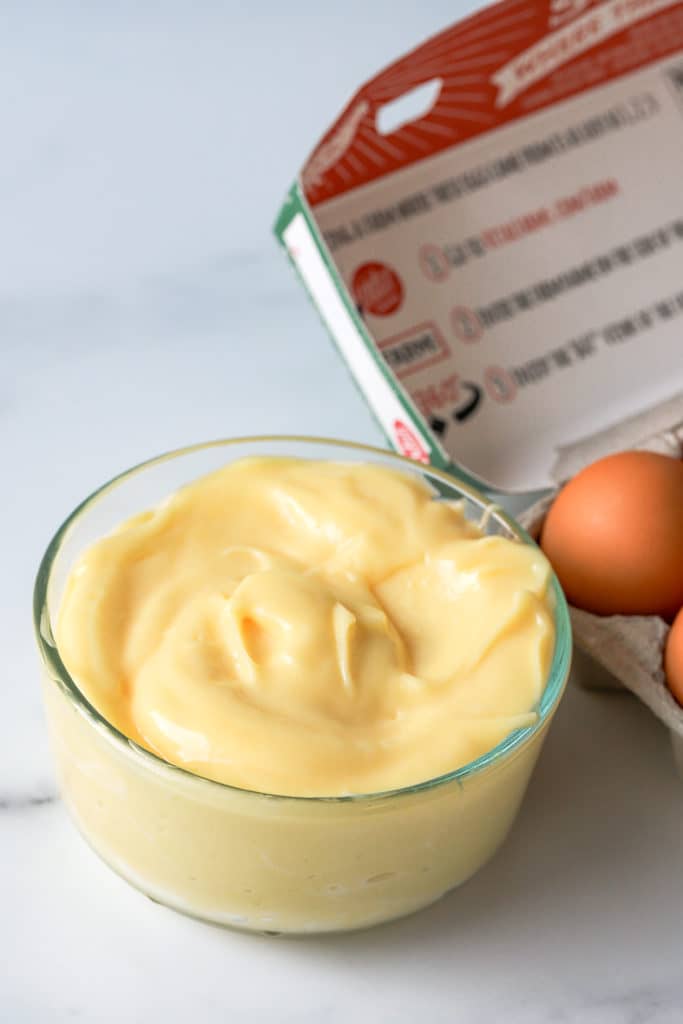 How Did Deviled Eggs Get Their Name?
According to Wikipedia, The term "deviled," when it comes to food, was used in the 18th century. It came to be used most often with spicy or zesty food, including eggs prepared with mustard, pepper, or other ingredients stuffed in the yolk cavity. So long story short, any dish prepared with egg, mustard, and pepper then stuffed can be considered "deviled."
On another note, I have a friend who refers to "Deviled Eggs" as "Angel Eggs," Honestly, I crack up every time she says it. Good laughs are more important than traditional food names.
Can You Make Deviled Eggs In Advance?
Yes, you can make deviled eggs in advance. Especially when it comes to the herb mayonnaise, you can make the mayo up to two days in advance and store it in an air-tight container in the refrigerator. In addition, boil the eggs a day or two in advance is a great game plan. I also recommend chilling the deviled eggs for at least two hours before serving because this will give the egg mixture a chance to firm.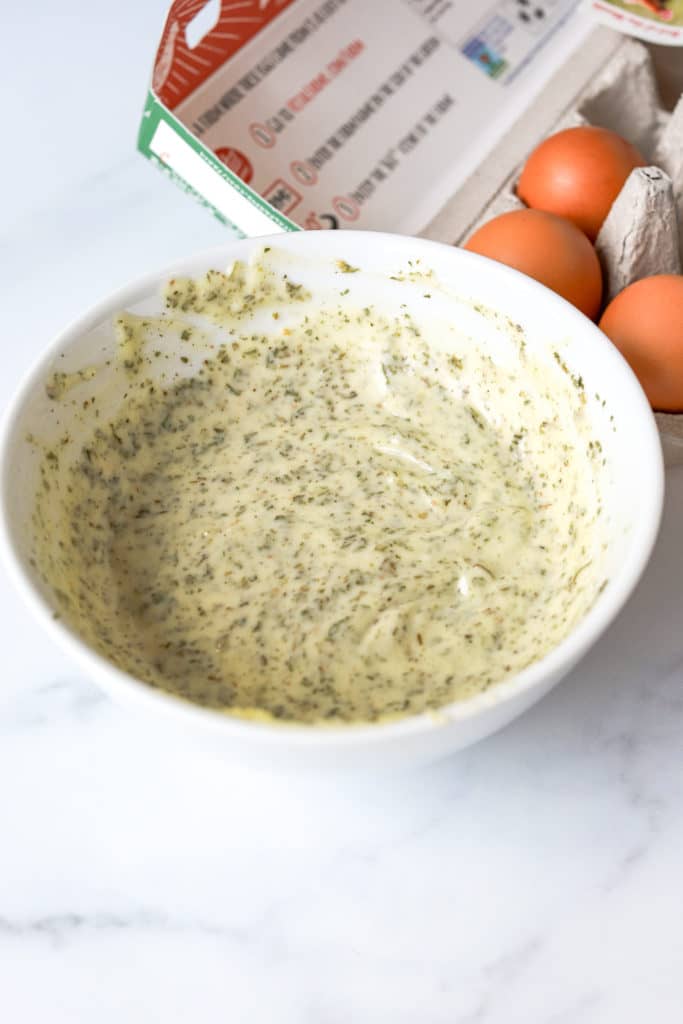 Other Ways To Use Herb Mayo
Every day cold cut sandwiches
Potato Salad
Chicken/Turkey Salad
Coleslaw and Broccoli Slaw
Aioli for dipping
Tasty Southern Deviled Eggs
Want to impress everyone with your southern deviled eggs? Then this is the deviled egg recipe for you because it uses homemade mayo and sweet relish. Deviled eggs are a southern favorite, so make this recipe for your next gathering.
Course
Breakfast, dinner, lunch, Side Dish
Herb Mayonnaise
Using the food processor with blade attachment on low power, process the egg yolks and herbs for 1 minute. Next, add salt, mustard, lemon juice, and water for 30 seconds.

4 egg yolks* at room temperature,

2 tbsp Provence herbs ,

1 tsp kosher salt,

1 tsp lemon juice,

1 tsp dijon mustard,

1 tbsp water

With the food processor still on low, add the oil through the processor's hole in the pusher until all oil is incorporated and the herb mayonnaise is emulsified and has a solid structure

Scrape down sides and make sure herbs are incorporated in the mayo.
Deviled Eggs
Peel hard-boiled eggs and slice lengthwise

Add egg yolks to a separate bowl. With a fork, mash the egg yolks until there are no more large chunks

Add herb mayonnaise, relish, and pepper to mashed eggs yolks. Mix until all ingredients are incorporated.

2 tbsp herb mayonnaise,

¼ tsp fresh black pepper,

2 tbsp sweet relish

With a small spoon, spoon the egg yolk mixture into egg whites. 

Lightly dust deviled eggs with paprika. (optional)

1 tbsp paprika garnish (optional)

 Serve or refrigerate until ready to serve.
Raw egg warning: Caution is suggested in consuming raw and lightly
cooked eggs due to the slight risk of salmonella or other food-borne
illness. To reduce this risk, we recommend you use only fresh, properly
refrigerated, clean, grade A or AA eggs with intact shells, and avoid
contact between the yolks or whites and the she
Keyword
brunch recipes, egg recipes, holiday recipes, mayonnaise
Other Recipes To Try
Last but not least, be sure you share this recipe with friends and family. Even go ahead and pin it on Pinterest.
This post contains affiliate links.