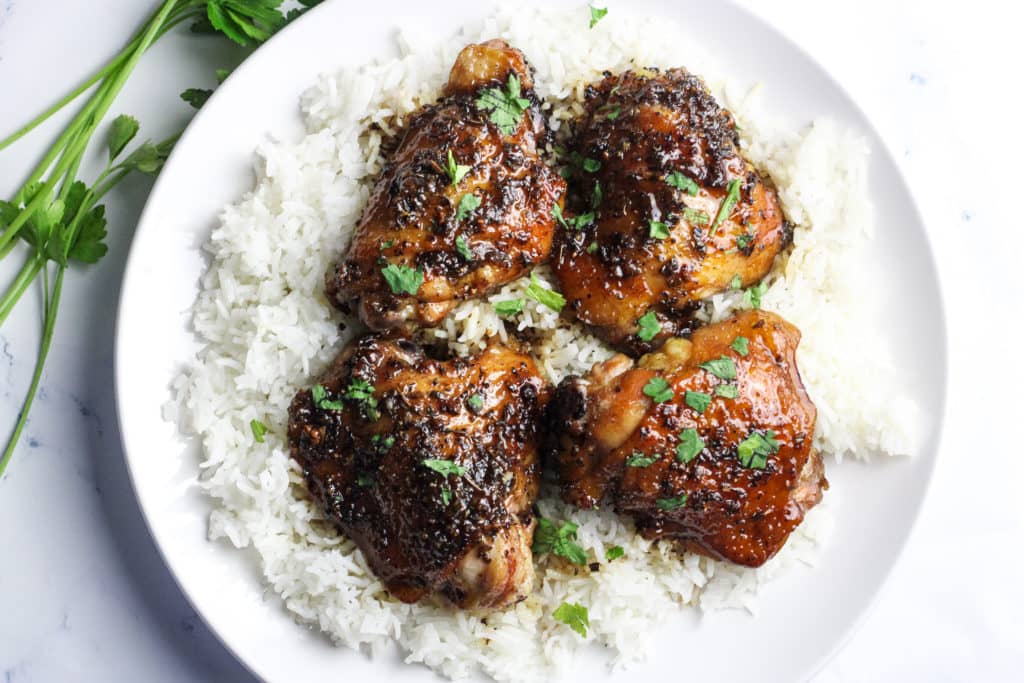 Are Chicken Thighs the Best Part?
If you don't know me, I am a chicken connoisseur or bet yet I love chicken. As a child, I remember having chicken most nights for dinner, and I don't remember complaining about it. Even with my love for chicken, chicken thighs have been my least favorite part of the chicken. To me, chicken thighs never seem to measure up to chicken wings or even chicken drums. Personally found chicken thighs quite dull. Sorry. On the other hand, many people believe differently and worship the chicken thigh and even say it is the best part of the chicken because it's the juiciest.
Change My Mind
Now, I am also in the mood to have my mind changed, so I decided to give the chicken thigh another try. And that try can in the form of adding a sweet, savory sauce to the chicken. The key to the chicken thigh is dressing it up and adding lots of flavors with textures. Baked or barbecue chicken thigh is boring, and below is the perfect recipe to change things up.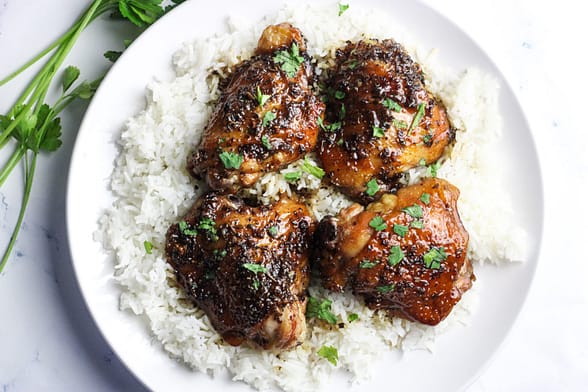 Recipe Tips
This Brown Sugar Garlic Chicken Thigh recipe quickly has become one of my favorite recipes because it is quick with minimal effort but makes it seem like you have been in the kitchen all day. It is also a favorite because it can be paired easily with rice or roasted veggies. Need to reduce the carbs? No problem, pair the chicken thighs with your favorite or green vegetable such as sautéed string beans. This chicken recipe would pair great with my Weekend Pasta Salad.
I can tell you that you will love the aroma that comes from the brown sugar and spice mixture. It will smell divine. This recipe is straight forward. The biggest thing is, don't forget to preheat the oven! Putting the chicken in the oven will crisp the chicken and also help caramelize the brown sugar. Yum!
This chicken recipe is perfect for a weeknight dinner or weekend dinner. I would say you can even add it to your brunch menu. Brown-Sugar chicken thigh and a waffle sound perfect.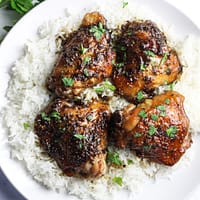 4

bone-in, skin-on chicken thighs
kosher salt and freshly ground black pepper or an all purpose seasoning

3

tbsp

unsalted butter, divided

3

cloves garlic, minced

¼

cup

dark brown sugar, packed

¼

tsp

dried oregano

¼

tsp

dried thyme

¼

tsp

dried basil

2

tbsp

honey
fresh parsley leaves for garnish, chopped
Preheat oven to 400 degrees F.

Season chicken thighs with salt and pepper or your favorite all-purpose seasoning

In a large oven-proof skillet, melt 2 tablespoons butter.

Place chicken skin-side down, and sear chicken on both sides until the skin is a crisp brown.

Add the last tablespoon of butter in the skillet. Add garlic and cook until fragrant.

Add brown sugar, oregano, thyme, basil and honey to skillet. Stir until well combined then add chicken back to skillet.

Place skillet in the oven and bake until the chicken reaches a temperature of 175 degrees.

Let the chicken rest for 5-10 minutes. Garnish with fresh parsley.
Did you Make this Recipe?
If you make this recipe, please remember to tag me at @eriqueberry and hashtag it #EatingwithErique.